May 2022 - Strawberry Cottage, Glen Affric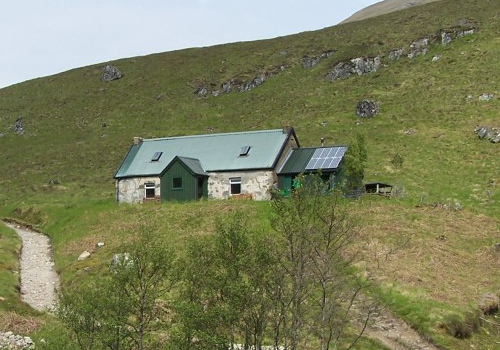 Strawberry Cottage
Date : 6th-8th May
Spaces : 12 spaces
Cost : £20 for weekend
Book a Place
Come to The Glen Tavern on a Thursday night. Alternatively email Neil.
Strawberry Cottage information notes for Cioch Members​
Mixed dormitory sleeping arrangements. Mattresses are provided, meet attendees are required to bring sleeping bags and appropriate nightwear.
8 beds upstairs and 4 beds downstairs.
This is a remote cottage.  Cottage access is restricted to 2 vehicles maximum. Car parking is approximately 200 yards from cottage. Well organised car sharing is essential. The nearest pub/restaurant is probably 10 miles away and not readily accessible after you have taken up residence in Strawberry Cottage, so meet attendees should bring all foods and drinks necessary for the duration of your stay with you when you arrive. Mobile phone reception is very unlikely.
Although the accommodation standard here is quite basic i.e. composting toilet, no showers; the kitchen is adequate for meal preparation for all attendees. Gas cooking, electricity from solar panels plus back up generator. Heating is provided by a log burner (logs provided). Pumped water supply to kitchen sinks.
What it lacks in luxury is more than compensated for in so many other ways. The picture postcard charm of the cottage by the river, the idyllic heart of Scotland location, the close proximity of so many desirable Munros to be bagged and many miles of remote tracks to be cycled.
3 good hill walking days straight out the door of Strawberry cottage could see you knock off 13 Munros from your 'to do' list and almost as many Munro tops if you are bagging them too. That makes a big dent in section 11 of the Munro list.  
Midges can be a problem,  midge repellent is recommended.
Maximum occupancy is 12 people.
Access notes; keys are required for the gate and the cottage. The custodian normally supplies these to the meets secretary two weeks prior to the dates booked.
Previous visits to Strawberry Cottage